Denmark might be a small market, but it's probably the European country where mobile competition has been the fiercest – and most price-focused – for the longest time. Denmark has only had one price war, but a twenty-year long one.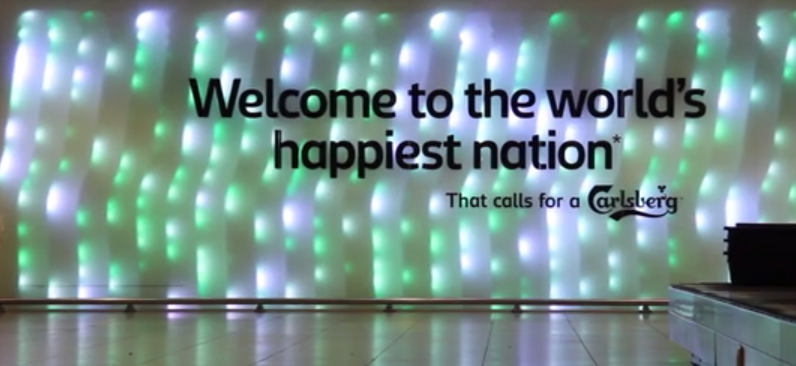 Ad in Copenhagen airport
There are four mobile operators in Denmark – TDC, Telenor, Telia and '3' – but it was historically the independent MVNOs like Telmore, Onfone and CBB Mobil who drove the price-led competition. After having transformed the market, these MVNOs were, one by one, acquired by the Danish operators. But they continued as sub-brands, quite often with a separate and relatively independent management and operations. TDC, who bought most of these MVNOs, has in the last two years started to downsize the brand portfolio and bring remaining brands under tighter control.
Side note: Given the competitiveness of the market, it surprised many that TeliaSonera and Telenor couldn't agree with the European Commission about the terms of their merger in Denmark.
Now that more and more operators globally change their mobile contracts from binding to non-binding, Denmark becomes an interesting benchmark. Local law underpins the contract duration that the local providers can enforce:
Danish legislation prevents a consumer customer to be bound for more than 6 months
Consequently, Danish operators have since long used a different toolset to keep customers loyal compared to operators who lock consumers into 24 months contracts. Thereby, Danish operators have in some cases pioneered elements of Nonstop Retention:
When TDC introduced TDC Rate early 2011, it was one of the first handset installment plans in the world.
Already in 2008, TDC launched their branded inclusive music service, TDC Play. It has since evolved from downloading to streaming and from pure music to also include films & TV series.
When we today add TDC to the Nonstop Retention Index, they enter well above the historical industry typical, but not at the top. TDC's index is 25. This is based on TDC's current postpaid plans for consumers, introduced as late as in June this year. As part of the introduction, TDC reduced the number of plans to just three – with 2, 8 and 30 GB.
Let's go through TDC's strengths and weaknesses in the six categories that make up the index:
Inclusive value
TDC does well in this category. Not only did TDC increase voice and data allowances significantly in June; they also provide free public Wi-Fi (named TDC Hotspot) to all customers.
On the content side, TDC does a lot:
All customers have free access to the film & series part of TDC Play. Moreover, that access is zero-rated, i.e. doesn't consume any of the monthly allowance. It is unusual that operators zero-rate video services since they often represent a majority of the traffic.
Also the music part of TDC Play is zero-rated but the music service is not included in the 2 GB entry level plan. This takes TDC's index down a bit.
On certain dedicated mobile broadband plans, TDC includes Mobifo, an e-book service.
Even though all of this is good for TDC's Nonstop Retention Index, it steers the customer towards a specific service. Telia, one of TDC's competitors, are instead allowing customers to select (see picture) which services they want included (not zero-rated, though). A similar menu approach would have given TDC an index of 28.
Through SamleFordele, TDC customers who bundle mobile subscriptions with either fixed broadband or TV receive 3 more hours of mobile talk time (might be unlimited already) and 3 GB more data – each with up to 5 mobile subscriptions. This is generous since multi-user mobile already comes with a discount – we are coming to that.
On roaming, TDC includes TDC Rejseklar EU only on the most expensive 30 GB plan – and even there it's really limited with just 100 MB data per month in EU.
No waste of data
Since TDC (in an international perspective) has high allowances and zero-rates services, it's perhaps logical that TDC doesn't allow any unused data to be carried over to next month. Doing it for both regular data and top-ups would increase TDC's index to 33.
With more than one SIM in an account, TDC allows all subscriptions in the account to share the data, though.
But it does not apply to the top-of-the-line 30 GB subscription. These subscriptions can't even share their data with a data-only SIM – something customers on the 2 or 8 GB plans can with up to two data-SIMs. That limitation reduces the value of the 30 GB plan significantly since it's unrealistic to month after month consume 30 GB on a single smartphone. TDC's terms & conditions are in quite graceless language describing what will happen if 30 GB customers break the one-SIM-only rule. TDC's index falls two points because data sharing doesn't apply to all subscriptions.
Interestingly, TDC gave their customers (also on sub-brands) unlimited data during three months (May-July) this year to celebrate TDC's new network. Since the unlimited data promotion is discontinued, it doesn't have an impact on the Nonstop Retention Index, but it makes the use case limitations on the 30 GB plan difficult to understand.
Contract freedom & fairness
TDC binds all customers, but as said in the beginning, it can only be done for 6 months. When a similar 6 month legislation was introduced in Belgium in 2012, the Belgian operators decided to make contracts non-binding. This has been (and is still) an option for TDC. It would increase TDC's index from 25 to 29.
TDC doesn't currently allow customers to pause their subscription or downgrade it – perhaps considered unnecessary given the shorter-than-usual binding period.
Buying experience & rating
TDC has a simple buying experience with few options, few extras (since most of them are included) and an easy-to-navigate web. As indicated, there are many and they are not always transparent. But they are no worse than on average in the telco industry.
Community & following
This is a weak point for TDC. A low community engagement is combined with a lack of recommendation, referral or loyalty programmes. Therefore TDC's index in this category is solely dependent on their multi-user discount. Which, given the included content and added value if customers bundle with fixed, is very generous:
On the 2 GB plan (right), the second to fifth SIM gets a 34% discount compared to the first.
But with the 8 and 30 GB plans, the price for additional SIMs is still the same 99 DKK, in other words a substantial discount of 50% on the 8 GB plan and 69% on the 30 GB plan. Such discount is almost unheard of and signals that TDC really wants Danish households to become total TDC customers.
Handset flexibility
With a legal possibility to lock customers in for just 6 months, TDC doesn't do anything extra around handsets beyond providing the TDC Rate installment option: No early upgrade plan, no handset trade-in, no lease plan.
If a customer wants a new handset, he/she can start a new TDC Rate installment plan and pay off the two plans in parallel. But it stops there; TDC doesn't allow people to have more than two plans.
---
During 2013, 2014 and in the beginning of 2015, TDC's mobile consumer customer base in Denmark shrunk: TDC lost market share to Telenor, Telia and '3'. Even though TDC was early with installment plans, inclusive content and multi-user discounts, competitors have since quite some time copied these initiatives. The redesign of TDC's offering in June – making it simpler and more data-oriented – was therefore necessary. TDC's Nonstop Retention Index shows that the brand is now on the right track but with things left to do.
Other mobile operator brands should look at Danish brands as an inspiration of how to mitigate the impact of short lock-in.